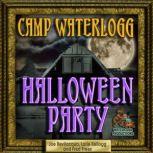 The Camp Waterlogg Halloween Party
In The Camp Waterlogg Halloween Party, Ellis and Elise are installing security cameras around Camp Waterlogg. Andy and Lkie enjoy spooky stories by the guests of Ranger Joe and Lories pre-Halloween party. Meanwhile, Sgt. Lefty and Olive Pitts meet the camps new dog Sophie. Its Halloween when Mrs. Terrwilliger, Sgt. Lefty and Olive Pitts think the camp is haunted by the ghost of Pierre Terrwilliger. However, it is really Ellis and Elise accidentally playing his last will video over the camps new security system. Meanwhile, Andy and Lkie get spooky stories instead of candy for trick or treat. Husband and wife team Joe Bev and Kellogg not only produce, direct and write the weekly comedy hour, except for guest star Fred Frees, they improvised all the characters voices, including four the radio cartoons: Waking Nightmare, The Evil Goblins, The Crashed Martian, and The Creature in the Attic by Pedro Pablo Sacristan.
Sale: $10.47
You May Also Like for Halloween
Available from Audio Books Now
Audio Books Now has thousands of Audiobooks to download to your smart phone today!
Audio Books Now is a digital audiobook download and streaming service. You can receive deep discounts on your purchases with their unique Club Pricing Model. As a Club member, you can choose a free premium audio book and can cancel the membership at any time. Club members also receive rollover discounts every month and have access to exclusive discounts. Membership is not required to purchase audiobooks at their everyday low prices. Audio Books Now currently offers over 80,000 audiobooks, including 1,000 free audiobooks.
Have a Safe and Happy Halloween!!
The information presented to you by Viral Fortunes Shopping is on behalf of a third party or sponsor ("Merchant"). Viral Fortunes does not endorse and therefore is not responsible for the Merchant's views, policies, products and/or services.