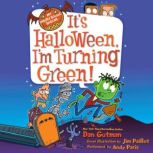 My Weird School Special: It's Halloween, I'm Turning Green
It's Halloween, I'm Turning Green is Weird! Possibly the weirdest Halloween story in the history of the world!
AJ and his Weird School friends are ready to go trick-or-treating. Things don't turn out as expected when a monster steals all their candy. The kids discover the monster is after their technology teacher, Mrs. Yonkers's machine that makes everything giant. They want to use the machine to make their candy giant. Can the kids keep their candy safe or will Halloween be ruined?
Plus 32 pages of bonus content! Professor A.J.'s Halloween Facts Puzzles Trivia Games And more!
Sale: $6.30
You May Also Like for Halloween
Available from Audio Books Now
Audio Books Now has thousands of Audiobooks to download to your smart phone today!
Audio Books Now is a digital audiobook download and streaming service. You can receive deep discounts on your purchases with their unique Club Pricing Model. As a Club member, you can choose a free premium audio book and can cancel the membership at any time. Club members also receive rollover discounts every month and have access to exclusive discounts. Membership is not required to purchase audiobooks at their everyday low prices. Audio Books Now currently offers over 80,000 audiobooks, including 1,000 free audiobooks.
Have a Safe and Happy Halloween!!
The information presented to you by Viral Fortunes Shopping is on behalf of a third party or sponsor ("Merchant"). Viral Fortunes does not endorse and therefore is not responsible for the Merchant's views, policies, products and/or services.