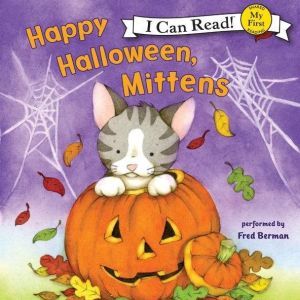 Happy Halloween Mittens
In Happy Halloween Mittens; Nick is getting ready for Halloween, and Mittens wants to help. But the only thing Mittens seems to be good at is making a mess. Until he finds his own way to contribute to Halloween night's spooky good fun. The youngest of readers will enjoy the appealing kitten's easy-to-read celebration of Halloween!
Sale: $1.40
Club Member: $0.99
You May Also Enjoy for Halloween
Horrible Harry at Halloween (audiobook)

Horrible Harry at Halloween Horrible Harry at Halloween is the 12'th story in the Horrible Harry Series. Halloween is the holiday with the most fun ror Horrible Harry and the other students in Miss Mackle's third grade class. Everyone wears a costume, including Miss Mackle. And Horrible Harry has the spookiest disguise each year. So […]

Trick or Treat Halloween Candle

Trick or Treat Halloween Candle Trick or Treat Halloween Candles… Gimme something good to eat! (Or smell in this case!) This is a necessity for Hallow… [More] Price: $24.95 (USD) Buy Now You May Also Like for Halloween Mobster Halloween Costume Mobster Halloween Costume This Mobster Halloween Costume, will make you look just as large […]

Blurp Charlie Scary Halloween Mask

Blurp Charlie Scary Halloween Mask There is an old urban legend that says if you sneeze with your eyes open, your eyeballs will fly out of your head? It can't possibly be true, because our body doesn't work like Nerf guns. Nevertheless we're still too chicken to try it out. What if it turned out […]
Available from Audio Books Now
Audio Books Now has thousands of Audiobooks to download to your smart phone today!
Audio Books Now is a digital audiobook download and streaming service. You can receive deep discounts on your purchases with their unique Club Pricing Model. As a Club member, you can choose a free premium audio book and can cancel the membership at any time. Club members also receive rollover discounts every month and have access to exclusive discounts. Membership is not required to purchase audiobooks at their everyday low prices. Audio Books Now currently offers over 80,000 audiobooks, including 1,000 free audiobooks.
The information presented to you by Viral Fortunes Shopping is on behalf of a third party or sponsor ("Merchant"). Viral Fortunes does not endorse and therefore is not responsible for the Merchant's views, policies, products and/or services.