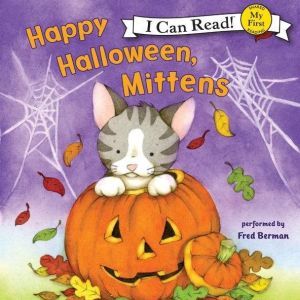 Happy Halloween Mittens
In Happy Halloween Mittens; Nick is getting ready for Halloween, and Mittens wants to help. But the only thing Mittens seems to be good at is making a mess. Until he finds his own way to contribute to Halloween night's spooky good fun. The youngest of readers will enjoy the appealing kitten's easy-to-read celebration of Halloween!
Sale: $1.40
Club Member: $0.99
You May Also Enjoy for Halloween
Kids Haunted Mirror Ninja Costume

Kids Haunted Mirror Ninja Costume Go unseen on Halloween, but only if you want to, when you wear this Kids Haunted Mirror Ninja Costume for boys. The black top of this ninja costume comes complete with a pair of matching pants, a mesh armor tunic, shoulder armor, belt, shin guards, wrist guards and a mirror […]

Peanuts Lucy Halloween Witch Statue

Peanuts Lucy Halloween Witch Statue Peanuts Lucy Halloween Witch Statue: Lucy is wearing her witch's costume and a smile that is a mile wide! Go trick-or-treating this year with this Halloween design that combines the whimsical world of Peanuts and the unmistakable folk art style of Jim Shore. The Peanuts Lucy Halloween Witch Statue is […]

Fill and Cross Trick or Treat (PC Game)

Fill and Cross Trick or Treat Boo! Fill and Cross Trick or Treat! Today you have a unique opportunity to remember Halloween night! Can you get more tasty candies faster than your friends? Are you afraid of ghosts? Guess all the pictures and win many unusual trophies! There are 120 unique levels in 6 magnificent […]
Available from Audio Books Now
Audio Books Now has thousands of Audiobooks to download to your smart phone today!
Audio Books Now is a digital audiobook download and streaming service. You can receive deep discounts on your purchases with their unique Club Pricing Model. As a Club member, you can choose a free premium audio book and can cancel the membership at any time. Club members also receive rollover discounts every month and have access to exclusive discounts. Membership is not required to purchase audiobooks at their everyday low prices. Audio Books Now currently offers over 80,000 audiobooks, including 1,000 free audiobooks.
The information presented to you by Viral Fortunes Shopping is on behalf of a third party or sponsor ("Merchant"). Viral Fortunes does not endorse and therefore is not responsible for the Merchant's views, policies, products and/or services.