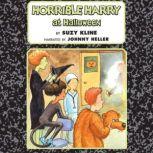 Horrible Harry at Halloween
Horrible Harry at Halloween is the 12'th story in the Horrible Harry Series. Halloween is the holiday with the most fun ror Horrible Harry and the other students in Miss Mackle's third grade class. Everyone wears a costume, including Miss Mackle. And Horrible Harry has the spookiest disguise each year. So now, when Halloween arrives this year, the students wonder what Harry will be. Join Horrible Harry and the students of Room 3B in five spirited adventures that result from Harry's unusual costume. Chapters including Water, Water Everywhere! and The Case of the Missing Pixie Dust will delight young readers and have them looking for more in this popular series. Johnny Heller has earned rave reviews for his performances of the Horrible Harry books. AudioFile calls these audiobooks "pure, laugh-aloud entertainment".
Sale: $5.60
You May Also Like for Halloween
Available from Audio Books Now
Audio Books Now has thousands of Audiobooks to download to your smart phone today!
Audio Books Now is a digital audiobook download and streaming service. You can receive deep discounts on your purchases with their unique Club Pricing Model. As a Club member, you can choose a free premium audio book and can cancel the membership at any time. Club members also receive rollover discounts every month and have access to exclusive discounts. Membership is not required to purchase audiobooks at their everyday low prices. Audio Books Now currently offers over 80,000 audiobooks, including 1,000 free audiobooks.
Have a Safe and Happy Halloween!!
The information presented to you by Viral Fortunes Shopping is on behalf of a third party or sponsor ("Merchant"). Viral Fortunes does not endorse and therefore is not responsible for the Merchant's views, policies, products and/or services.