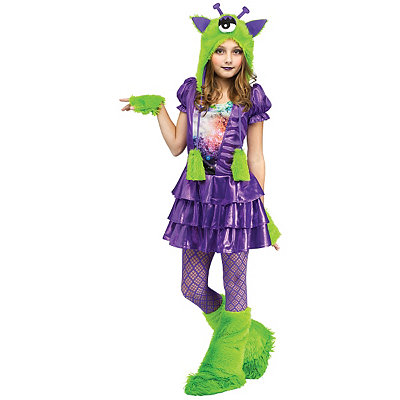 Kids Galaxy Costume for Girls
All the earthlings will want to be your friend this Halloween when you wear Kids Galaxy Costume for girls. This costume is out of this world with a shimmering purple dress with galaxy motif, furry green glovelettes and boot covers, and an alien hood.
Sale: $34.98
You Save $10.01
You May Also Like for Halloween
The Last Crown: Midnight Horror (PC Game)

The Last Crown: Midnight Horror Looking for an exciting halloween adventure game? Look no further than The Last Crown: Midnight Horror. Halloween: the veil between our world and the "otherside" is at its weakest. Witches celebrate Samhain, a Celtic festival from the old religion, conjuring the dead and communing with the spirits. Nigel Danvers, a […]

Kaiju-A-GoGo Halloween (PC Game)

Kaiju-A-GoGo Halloween Choose your giant monster in Kaiju-A-GoGo Halloween! Tonight it's tricks AND treats as you dress your Kaiju up in its Halloween finest! Take of the world in style in this light action-strategy game that takes you back to the classic PC monster city-stomping games of yesteryear! Price: $1.99 (USD) Buy Now Game Screenshots […]

Huntsman: Orphanage (PC/Mac)

Huntsman: Orphanage (Halloween Edition) Huntsman: Orphanage is a hybrid of horror-survival and creepypasta. Finally, a game that gives you rich dialogue, complex characters and atmospheric settings at the same time it takes away violence as your only way out. Huntsman: The Orphanage is an indie 3D first-person alternative horror-mystery game. Your only equipment is your […]
Available from Spirit Halloween
Enter Gotham City with Batman Costumes from Spirit Halloween!
Spirit Halloween offers one-stop shopping for the best costumes for Halloween, Christmas, New Year's, Mardi Gras, St Patrick's Day and more. They have a huge selection of decor, costumes and accessories from cute children's costumes to hot adult's attire to spice up any party. With over 30 years of experience, you can count on getting the perfect costume.
The information presented to you by Viral Fortunes Shopping is on behalf of a third party or sponsor ("Merchant"). Viral Fortunes does not endorse and therefore is not responsible for the Merchant's views, policies, products and/or services.