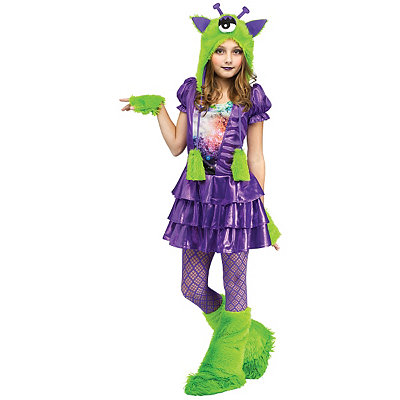 Kids Galaxy Costume for Girls
All the earthlings will want to be your friend this Halloween when you wear Kids Galaxy Costume for girls. This costume is out of this world with a shimmering purple dress with galaxy motif, furry green glovelettes and boot covers, and an alien hood.
Sale: $34.98
You Save $10.01
You May Also Like for Halloween
Kaiju-A-GoGo Halloween (PC Game)

Kaiju-A-GoGo Halloween Choose your giant monster in Kaiju-A-GoGo Halloween! Tonight it's tricks AND treats as you dress your Kaiju up in its Halloween finest! Take of the world in style in this light action-strategy game that takes you back to the classic PC monster city-stomping games of yesteryear! Price: $1.99 (USD) Buy Now Game Screenshots […]

Childs Diva Devil Halloween Costume

Diva Devil Halloween Costume We all like to think our kids are perfect angels. If we're honest tho, all kids have some angel but there's definitely a small percentage of devil in behind those innocent faces. They have an uncanny talent at using their charms to get their own way? Cause mischief and somehow seem […]

Star Wars Jabba Hutt Inflatable Costume

Star Wars Jabba Hutt Inflatable Costume Whether you are looking for a costume for Halloween or general party crashing, you will not find a costume more fun than this Star Wars Jabba Hutt Inflatable Costume! You probably can't replicate Jabba the Hutt's sheer girth, the Star Wars Jabba Hutt Inflatable Costume comes close. This costume […]
Available from Spirit Halloween
Enter Gotham City with Batman Costumes from Spirit Halloween!
Spirit Halloween offers one-stop shopping for the best costumes for Halloween, Christmas, New Year's, Mardi Gras, St Patrick's Day and more. They have a huge selection of decor, costumes and accessories from cute children's costumes to hot adult's attire to spice up any party. With over 30 years of experience, you can count on getting the perfect costume.
The information presented to you by Viral Fortunes Shopping is on behalf of a third party or sponsor ("Merchant"). Viral Fortunes does not endorse and therefore is not responsible for the Merchant's views, policies, products and/or services.