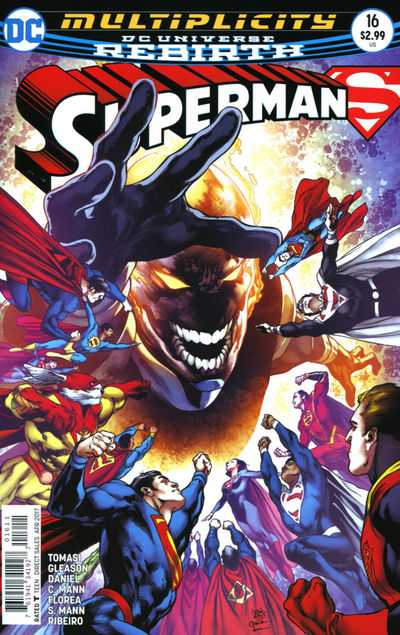 Superman #16
Superman 16
Superman 16.....'MULTIPLICITY' finale! Superman, New Super-Man and Justice Incarnate make their last stand against their multiverse-spanning foe, and the Man of Steel discovers another clue to the truth of his existence. RATED T
Publisher: DC Comics
Issue Date: April 2017
Cover Price: $2.99
Your Price: $1.00
You Save: $1.99
You May Also Like
Garfield and Co Mother Garfield #6

Garfield and Co Mother Garfield #6 (Graphic Novel) In Garfield and Co Mother Garfield #6 Hunting birds is something Garfield's never had any interest in. But when he finds a nest full of abandoned eggs, Garfield puts his pride aside and decides to help them hatch. Harry, the stray cat from down the block, would […]

The Kid Who Saved Superman (DC Super Heroes)

DC Super Heroes Superman Young Readers TPB Kid Who Saved SupermanRetail Price $4.95 When a series of earthquakes ripple across the planet, a school field trip turns deadly. Students are trapped on a crumbling mountain, and only one man can rescue them – Superman! But the tremors have exposed a large chunk of Kryptonite. With […]
Available from Things From Another World

Things From Another World offers over 30,000 pop culture products, with thousands of comics, toys, statues, apparel, graphic novels and other associated collectibles. They carry a huge variety of popular entertainment products from hundreds of manufacturers, including DC Direct, Dark Horse, Hasbro, McFarlane, Marvel, Tokyopop, Master Replicas, Disney and many more. Things From Another World also carries the full Diamond Comic Distributors catalog with thousands of new advance order products every month.
Some of their most popular product lines include: Buffy the Vampire Slayer, Hellboy, Justice League, The Simpsons, Dark Tower, Watchmen, Star Wars, Batman, X-Men, Superman and Spider-man. With product offerings like this, they have something for nearly everyone.
The information presented to you by Viral Fortunes Shopping is on behalf of a third party or sponsor ("Merchant"). Viral Fortunes does not endorse and therefore is not responsible for the Merchant's views, policies, products and/or services.